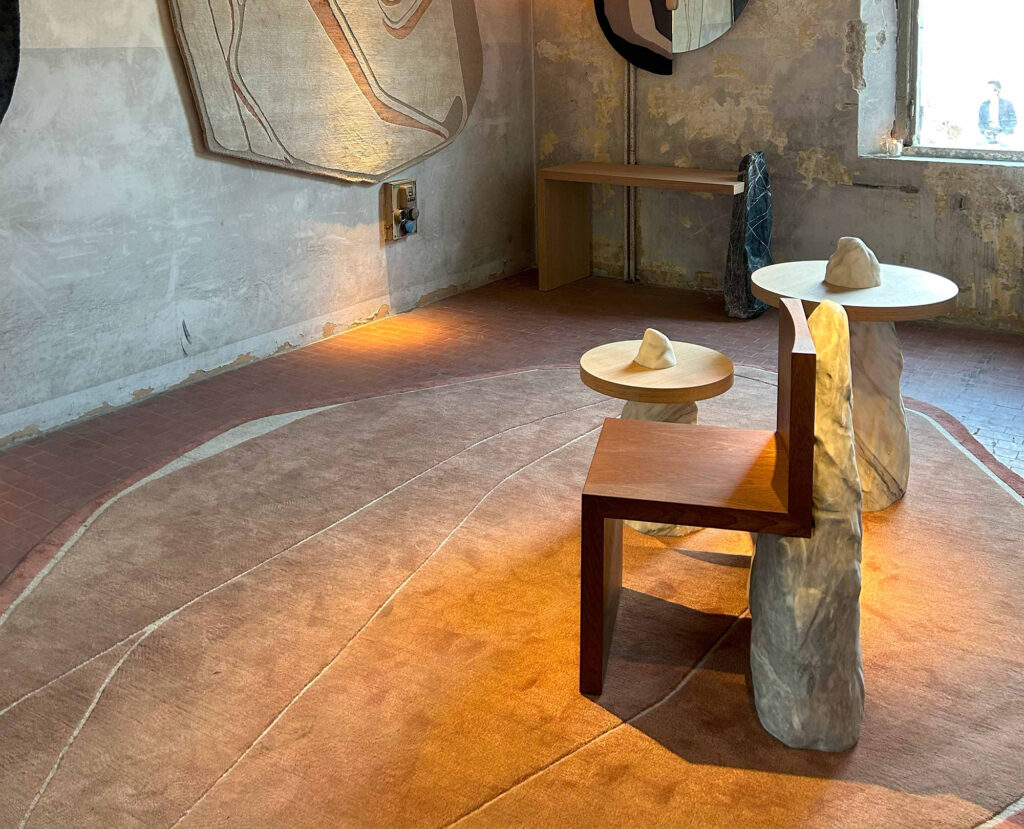 From Monday, April 17 to Sunday, April 23 in Milan, new locations and unusual destinations were added to the classic Brera Design District, 5Vie, Tortona, Durini, Isola, and Porta Venezia for the 2023 edition. These included the Central Station with Dropcity, Calvairate with the collective Alcova, and the southern district of the Fondazione Prada. It was impossible to see everything, but we recommended some highlights.
Delisart set out to uncover the most intriguing artisans and creative designers by visiting their workshops and exploring their bespoke productions, collectible designs, and artisanal works. Below is a selection of events that caught Delisart's attention during Fuorisalone.
Alcova unveiled spaces at the Ex-Macello di Porta Vittoria.
For their show at Alcova, the design house created new objects that, together with their existing work, inhabited their space, Room V2 (La Viletta Building). The aim was to create a sense of comfort by encouraging visitors to interact with the objects and trigger their imagination. The studio experimented with handmade ceramics and collaborated with local artisans in Portugal to realize their line of table lamps – a completely novel avenue for the studio, which launched during the show's opening.
Where: EX MACELLO, Viale Molise 62
In the heart of Brera, Agostino Iacurci's installation for glo™
Largo Treves hosted a majestic installation that became the centerpiece of the Brera Design District. The artist Agostino Iacurci, known internationally for his unique use of color and powerful graphic force, created a work that invited the public to reflect on the present and imagine the future, taking into consideration the rapid transformations of our landscape.
Where: Largo Treves,
Via Durini to Corso Monforte
41 brands displayed their latest innovations in their showrooms, which were open to the public. Additionally, on April 20th, the district hosted the "Notte Bianca," during which many historic buildings, such as Casa Manzoni with La Manufacture and Palazzo Borromeo d'Adda with Alessi Show, were open to visitors for free. All the exhibitions aimed to investigate the deeper meaning of the term Design and promote the culture of design and the concept of "Made in Italy" during Design Week.
Where: Milano Durini Design District
Ingo Maurer's grand return to Porta Nuova
Ingo Maurer, a renowned lighting brand, came back to Milan with a stunning event that was open to everyone. To mark the occasion of Euroluce 2023, the brand showcased its passionate creativity through a captivating light installation in a new, prestigious location that surprised and delighted visitors. The poetic brand's scenic outdoor light installation at Caselli 11-12 of Porta Nuova amazed visitors, and inside the two buildings, they could explore the latest product offerings.
Where: Piazzale Principessa Clotilde, 11-12
A novelty of that edition was the TDW Hub, an open space dedicated to creativity and innovation, located at Via Tortona 12. It was a gathering and interaction point where multiple companies coexisted and engaged in dialogues to offer visitors an experience of how design is part of our lives in various and sometimes unexpected ways.

Where: Via Tortona 12 –
Fuorisalone's Young Talent
"One&Twenty" was an exhibition organized by the German Design Council to celebrate the finalists of the international competition open to academies from all over the world. The jury had selected 21 exceptional projects distinguished by their aesthetics and innovation. The projects aimed to create functional and customizable products for an inclusive society, with a particular focus on sustainability through careful use of resources in production.
Where: Opificio 31 // Officina 3, voia Tortona 31 –